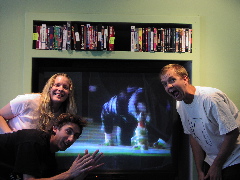 (Ever been in love?) If I was I didn't know it.

Let me ask you something Rick, how's a guy supposed to grow up in the middle of that?

I didn't want to hurt him, but he called me a loser.

They think they can solve everything by running away.

All I ever do is talk.

So how about it? You want that ride?
[whoooooa!] Simply great. Keanu is perfect in this video. Paula Abdul made a great decision to cast him. This is why we 'Thon.
Jeff
[whoooooa!] Perhaps the 8 most sublime minutes of my year. Make that 16 minutes. Wait, 24 minutes. Because we usually watch this at least 3 times in a row. It really is that good. Everything from Paula Abdul's reference to Keanu as "the actor Keanu Reeves" to the utterly nonsensical (but great) beginning dialogue to that awesome black ruffled outfit to, well, just every damn second of it. Jason Moattar would be proud.
Matt