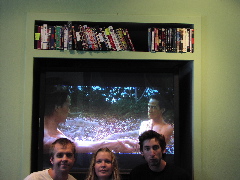 To learn is to change.

I am looking for freedom.

The whole world is dreaming, Chana.

Your love has become a prison.

Show me death.

What so you mean, old?
[whoooooa!] This is a great movie. It is beautifully set with wonderful color play. The movie follows two stories that parallel each other but are set in different times. Keanu goes out of his normal roles to play the young prince who becomes Buddha, and he pulls it off phenomenally, despite having to put on an Indian accent. This is an all out winner.
Jeff
[whoooooa!] Upon first viewing, one might say, "Where is Keanu?" His performance as Siddhartha is so chameleonic (definitely not a word) he is unrecognizable. However, his performance still is almost too predictably great. Delicate balance of the Siddhartha story with a search for the reincarnation of a monk. Beautifully cinematography and a lovely, lovely story. Chris Isaak, too.
Matt
Cast