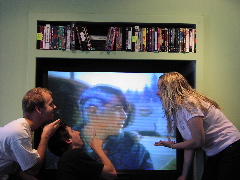 Vivá the revolution?

Must have been one of my many imitators.

We, like Socrates, are not understood in our own time.

This has been a test of the emergency Marshetta system.

You hid the money in the Port-a-Johnny!

I used to be a prince.

Depends on how you go I guess. I don't think you need one to go to Pittsburgh.

Yuckiness is truth.

You're not dead.

I think I'd rather be handcuffed to a refrigerator.
[whoooa] I was busy cooking during the main part of this movie, but I do remember being somewhat entertained from last year. It has a relatively interesting plot line and some amusing parts to it. All in all, it's a run of the mill 'whoooa'.
Jeff
[whoooa] No haircut comments, you will not find any here. Fred Ward is the undeniable King. Keanu is the Prince. A man who has those kind of friends who will uncuff you from a refrigerator door without even mentioning it, get to fornicate with Amy Madigan, have all the free ice cream you want, and hitchhike his way into the sunset. Although he does have to live in Pennsylvania, this is not the hard knock life those lovable orphans sing to us about. I guess that's why they call (it the blues and) him the Prince. (without ever mentioning the royal haircut)
Matt
Cast