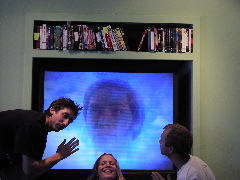 But I don't want you to go, please stay. We could go to dinner. I owe you a dinner.
[wh] Keanu has exactly two lines in this movie, which hardly makes it worth suffering through the rest of this movie for, especially because he shows up at the beginning. There are a lot of repeat actors and other links to other Keanu movies, but with how prolific Keanu is, that is not so surprising.
Jeff
[wh] Does this make me a cowgirl? 'Cause I was all blue watching this one. I have no real problems with this movie. It just does nothing for me. Maybe less than that. From a fine book & featuring roughly a zillion celebrity cameos (Keanu among them & he does have 2 lines), this feels more like an incomplete thing of incompleteness than a complete good movie (how I can turn a phrase!). My highlight is of course what I would imagine to be everyone's – Keanu as the floating object of Uma's affection.
Matt
Cast